Find My Pet GPS Nano Pet location tracking device
$89.99

$89.99

Save

$100.00
---
---
Nothing is worse than the panic feeling when your dog or cat has taken off and they are lost!  Which way do you hurry to look for them?  What if you go the wrong way?  Time is of the essence and this tracking device helps you locate your beloved four-legged pal as quickly as possible.
Bring lost pets home quickly
I have an older Shepard Mix named Max. He had the Find My Pet GPS Nano on him recently when he wandered into the woods — no doubt following an interesting scent or squirrel — and ended up on a stranger's back porch.
The kind woman who found him on her property pushed the triangular SOS button on the Nano. An alert popped up on my cell phone, telling me where Max had ended up, and we were quickly reunited.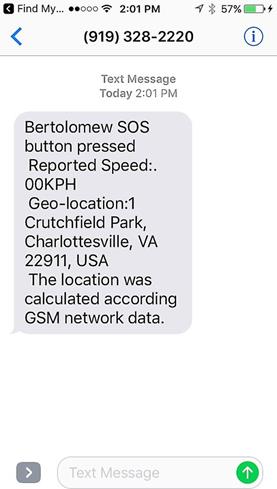 An SOS alert like this one — triggered by the Find My Pet GPS Nano — helped reunite me with my lost dog Max.
Excellent app and text alerts
I really enjoyed using the Find My Pet app to customize the GPS device to my needs. Overhead map images with intuitive drop-down menus, sliders, and buttons made it easy for me to establish my preferences, and that's a big part of why my lost dog experience ended as well as it did.
I liked being able to set up automatic text alerts to let me know when Max left my established geofence perimeter. I was also able to set a speed warning (if this old hound dog goes over 1 mph, he's in a car). 
This device requires a subscription-based cellular plan.
 Product Highlights:
durable, waterproof GPS locator helps find lost pets
uses Wi-Fi® and Bluetooth® to accurately fix location when satellites are obscured
text alerts notify you of perimeter breach, and changes in location or speed
transmits data via a 2G cellular network (subscription fee required)

works in T-Mobile coverage areas (does not need to be your cellular carrier)

precise geofencing establishes a virtual perimeter for your pet
SOS button sends an instant alert to designated smart phones if your dog gets lost
tracking history lets you know where your dog has been over the past year
attaches to your pet's collar with included clip and pouch
1-7/16" diameter x 1/2" deep
weight: .75 oz.
warranty: 1 year
---
Reviews
Add to cart and unlock more available product savings!!